We are proud of who we are and what we do
Wrington is the most prominent UK designer and manufacturer of corrosion resistant wheel nuts. We are a subsidiary of Expert CNC Ltd, the company who manufacture the wheel nuts. Our Stainless Steel range provides 100% corrosion resistance for the lifetime of the product. Our Black Carbon Steel range has a superior Zinc Nickel Black plating that can withstand over 720 hours of salt spray. The material is high grade Steel which has excellent strength characteristics. We manufacture all products in our own facility in the UK and only use UK/EU materials.
We are passionate about providing top quality products to customers who want the very best products for their vehicles. We have decades of experience and we are keen to engage with customers to provide a service and a solution to meet or exceed their needs.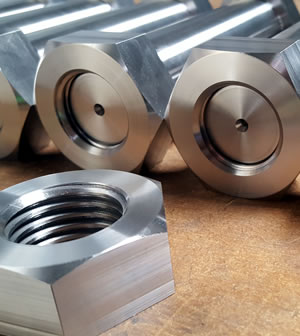 Our commitment to you
Wrington customers can expect first class products backed by a friendly knowledgeable service. Our Stainless Steel products are guaranteed for life against corrosion.
Wrington have specialised in the production of exceptionally high quality corrosion resistant wheel nuts for over 20 years.
Predominantly manufactured for Land Rover and Range Rovers we have an extensive range that covers most models, studs and wheel combinations. We are happy to quote for special's and variants not covered by our standard range. We do not currently manufacture studs or wheel bolts (external threads).
All our products and stocked items are normally available for next day despatch and priority manufactured in small batches on CNC machines to aircraft standards. Each nut is individually inspected at every stage during production with attention both to dimensional accuracy and aesthetic appearance. We offer a 'no quibble' guarantee providing the nuts are installed to our detailed instructions.
Our Stainless Steel nuts are manufacture from high quality Marine grade S316 which has excellent strength and corrosion resistance. Polished versions will retain their lustre and all Stainless nuts are guaranteed against corrosion for a lifetime. Unlike other nuts which offer Steel nuts with Stainless caps, our nuts are made from a sloid piece of Stainless so there is no opportunity for corrosion to form between a nut and a cap.
Our Black Zinc Nickel plated nuts are manufacture in an identical way to our Stainless nuts with the exception that the material is high grade Steel EN8 which has excellent strength. These nuts are then electro plated to a high specification giving over 720 hrs of corrosion resistance to continuous salt spray. These nuts are not available in a polished version and the finish is fine machined. Colour can vary slightly and we endeavour to select matching nuts for each order.
All our products are inspected prior to careful packing and are normally available for next day despatch.
We take great pride in our products and have extensive knowledge of their application which ensures customers receive the correct product for their needs. We encourage enquiries before ordering as part of our inclusive approach to customer support.
We are confident that you will love our products.
The team at Wrington
Contact Wrington
We look forward to hearing from you